Home > Monitor Training > Using Loan Program
Using Loan Program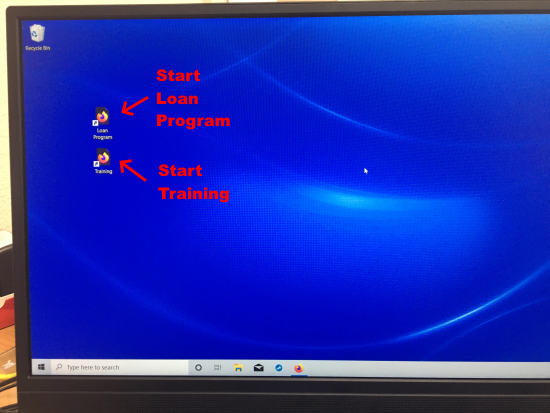 First, if the computer program is being used in tandem with the original card system the card system should ALWAYS have the priority. If you become busy the computer can always be updated at a later time. If the computer intimidates you and you don't feel comfortable using it don't use it. Just put a slip of paper on the rubber banded cards at the end of the day saying the computer was not used.
After the computer has started you will see the screen above. To start the program put the mouse cursor over the Loan Program icon and Left Click twice on it. You should see the screen below.
---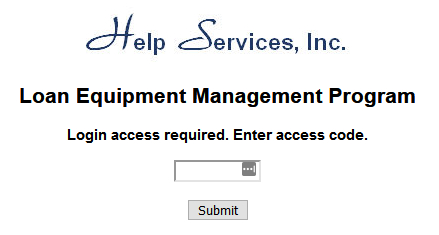 Access code taped to lower left corner of screen.
You must log in to the program to gain access and assure security. The access password is on a piece of paper on the lower left area of the computer. Do not share this password with others.
---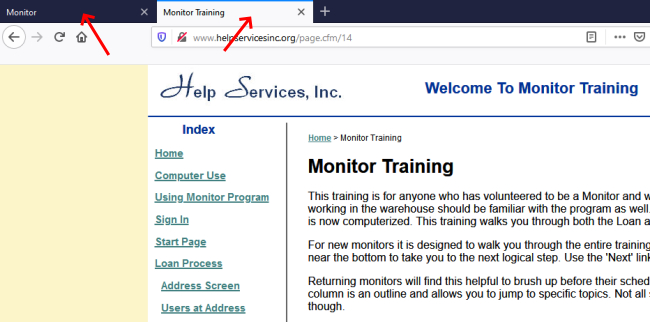 Click on tab to go to window
The computer may also open looking something like the above screen. The browser allows different content to be open in separate windows, or tabs. You can switch from one tab to another by clicking on the tab using the left mouse button.
If the computer opens looking like this one tab will take you to the training while the other tab will take you to the loan program.
NEXT